At the Dry Eye Treatment Center in NYC or West Orange, NJ and in our online store we carry a wide array of dry eye treatment products and supplements.
Dry Eye Formula™
EyeScience Dry Eye Formula™ is a unique oral supplement that may improve your dry eye symptoms for long lasting continuous relief. Although eyedrops may provide temporary relief of your symptoms, they are inconvenient and cumbersome to use. Our formula works differently, from the inside out, addressing the underlying cause of dry-eye syndrome, not just the symptoms.
Standard 30-day Supply

Ships as a single box containing 90 softgel capsules.

$22.45

$7.95

$1

Standard 90-day Supply

Ships as three individual boxes, each containing 90 softgel capsules.

$67.50

$7.95

$1
Tranquileyes Mini
The Mini is ideal for a spare or travel pair of tranquileyes. The name 'Mini' refers to the size of the canister. The goggle is standard size and features our standard foam with fabric. Like all other tranquileyes goggles it can be used to create complete darkness to help you sleep or with warm water to help relieve dry eyes and cold water to help reduce puffiness around the eyes. The Mini includes a mini stainless steel travel canister, one pair of tranquileyes & a manual. Made in the USA.
Chronic Dry Eye TE Kit
Tranquileyes Chronic Dry Eye TE kit is our best-selling kit for dry eye sufferers. Each kit includes everything one needs to receive the full benefits of the tranquileyes system. The TE kit includes a set of the blue instant thermoeyes gel packs allowing for both mild and intense moist heat therapies (dry eye relief) and cold therapies (puffiness).
The moist heat therapies use heat to help loosen the oils we need to slow evaporation of our natural tears. The increased humidity created reduces the evaporation of natural and artificial tears while wearing the goggles, creating a soothing environment for the cornea. Chronic sufferers can use tranquileyes to enhance the benefits of artificial tears, Restasis, ointments, punctal plugs, and supplements.
The Chronic Dry Eye TE kit features our foam for sensitive skin made without fabric materials.
The Tranquileyes Chronic Dry Eye TE kit includes:
· one pair of tranquileyes goggles with foam for sensitive skin.
· one set of thermoeyes instant reusable gel packs.
· one spare set of foam cushions with pads for replacement.
· net bag for drying.
· microfiber travel sack.
· anti-bacterial Cleanser for Foam (1.0 fl. oz.).
· sample of OCuSOFT Lid Scrub Plus.
· product manual.
Tranquileyes are made in the U.S. and Latex free.
thermoeyes – instant version
Enhance Moist Heat and Cold therapies with Blue Instant thermoeyes. Thermoeyes are optional gel packs that boost the original tranquileyes therapies by increasing temperature intensity. Thermoeyes tuck inside the goggle, replacing the thick gray moisture pad used for mild warm/cold treatments. A thinner white pad (thermopad) is soaked in warm (dry eye treatments) or cold (puffy eye treatments) and placed on top of the gel pack. For extra heat, snap the stainless steel disc inside the packet and the thermoeyes instantly generate heat. The heat lasts approximately 30 minutes.
The snapping action of the stainless steel disc is what activates the thermoeyes instant, generating heat. After using thermoeyes for heat, they need to be boiled before reuse. After use, boil continuously in water for several minutes. The thermoeyes will be ready to reuse again after they cool. They are reusable approximately 100 times for heat. The blue instant version can also be placed in the freezer or refrigerator to boost and enhance cold treatments. Each kit includes 4 gel packs and 4 custom moisture pads.
New Thermoeyes micro-waveable Beads
New thermoeyes microwaveable Beads boost and enhance tranquileyes hot and cold treatments. Made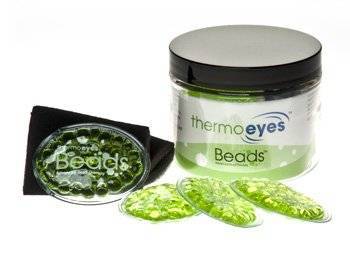 from glycerin, the beads heat up in hot water. Use a microwave or other source to heat water, let them sit for a minute, remove, insert into tranquileyes goggle and wear. Enjoy repeated 15-18 minute warm compresses with ease. Beads can also be used to create refreshing 15-30 minute cold compresses to reduce inflammation and puffiness.
Kit includes four gel packs and one set foam sleeves.
.